Yes, there really are ways you may be able to eat for literally nothing in the UK's capital city. But this isn't easy. So before we get into how to eat for absolutely nothing, maybe we should concentrate first on ways to eat for next to nothing.
Surprisingly, London's street food can be incredibly cheap. This is because it's so competitive. It's certainly possible to eat for less than a fiver on the street. So if you're staying over for free at a friend's place in London and feel you ought to pull your financial weight and feed your host without breaking the bank, then Borough Market is probably the best choice for great and cheap street food – as it has been for centuries, in fact. From chorizo rolls to cheese toasties, you're sure to find something affordable. Alternatively, food delivery services like Deliveroo have some great cheap choices so you can stay in and show your gratitude while saving on the expense of tubes and trains.

"Borough Market" by Herry Lawford (CC BY 2.0)
Meanwhile, for the best breakfast in the capital, seek out London's independent "greasy spoon" cafes. These can also be incredibly cheap, and filling, so should see you comfortably through the day while you enjoy the city's free museums, art galleries and myriad other attractions for absolutely nothing.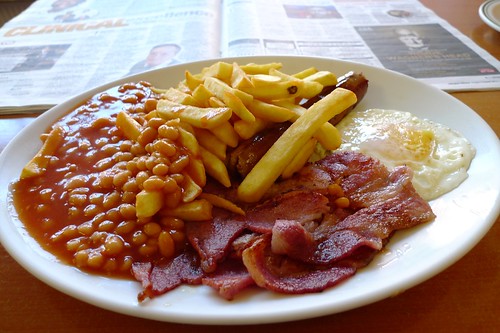 "Archway Town Cafe, Archway, London" by Ewan Munro (CC BY-SA 2.0)
That's all very well, but what do you do if your budget for eating is absolute zero? Well you can try becoming a mystery diner for a start. This seems ideal as you get paid to eat. The downside is that you'll have to go to the restaurant the market research company tells you to, order what they tell you to and write a report afterwards. But hey, it's free. The "Mystery Dining Company" and "Market Force" are always on the lookout for mystery diners.
Similarly, market research companies organise focus groups on all sorts of consumer goods and services where you not only get paid around £50 for a couple of hours' worth of your views, you also get fed and watered.
If neither of these options is your thing, then how about sampling? Wander around the big markets like the afore-mentioned Borough Market, Old Spitalfields Market, Greenwich Market or Leather Lane Market. There are countless vendors encouraging you to sample a little of their wares.
Of course, this approach takes a lot of "front" and it's not a trick you can realistically repeat over and over. So, instead, head to a place where they're simply giving away free food. Hare Krishna followers give food gladly in London as part of their "Food For Life" project. This is the world's biggest free vegetarian food distribution programme. Hare Krishna pals are found in different parts of the city serving food free from 12-2pm. It's usually curry with rice and bread and is generally excellent. Food for Life London distribute food mainly at Lincolns Inn Fields – though we should point out that this service is primarily aimed at helping homeless people.
As you can see, it's easy to eat for nothing – or at least affordably – in London. And best of all, you'll enjoy some delicious food from different corners of the globe at the same time.